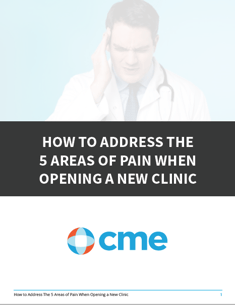 HOW TO ADDRESS THE 5 AREAS OF PAIN WHEN OPENING A NEW CLINIC
At CME, we realize that opening a new clinic is not without its problems. Toils, frustrations and, yes, even pain sometimes occur. To check this out and confirm our suspicions, we recently polled some newer customers and asked them to describe some of the areas of pain they experienced when trying to open a new clinic. We only asked customers that opened larger clinics, those with over 20 exam rooms. After compiling the list, the many pains seemed to land in 5 distinct areas.
In this eBook, we will cover these five distinct areas to help alleviate the pain:
Getting the Quotes

Cutting the PO's

Receiving and Storing the Products

Staging

Delivery and Installation
To Download this FREE eBook, please fill out the form.