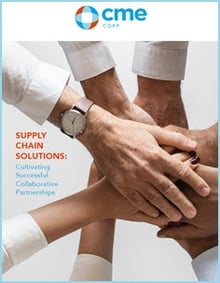 Download: supply Chain Solutions: cultivating successful collaborative partnerships
Delays at large clinics (25 physicians) can cost $125,000
in revenue per day. With these startling facts in mind, it
becomes apparent that proper planning, distribution
and logistics are critical investments for success. While these projects can vary greatly in scope and size, one key factor can usually contribute to their success – collaboration.
OUR EBOOK: SUPPLY CHAIN SOLUTIONS: CULTIVATING SUCCESSFUL COLLABORATIVE PARTNERSHIPS WILL PROVIDE AN INSIGHT ON THREE SUCCESSFUL COLLABORATIVE PARTNERSHIPS.
By including all the relevant stakeholders, defining the scope of work and goals and cultivating trust and transparency through open communication, CME sets out to personalize our best practices and employ them across different settings to maximize the benefits of every professional relationship.
Complete the simple form, to the right, to access this eBook now.
Read more about CME and Collaboration: